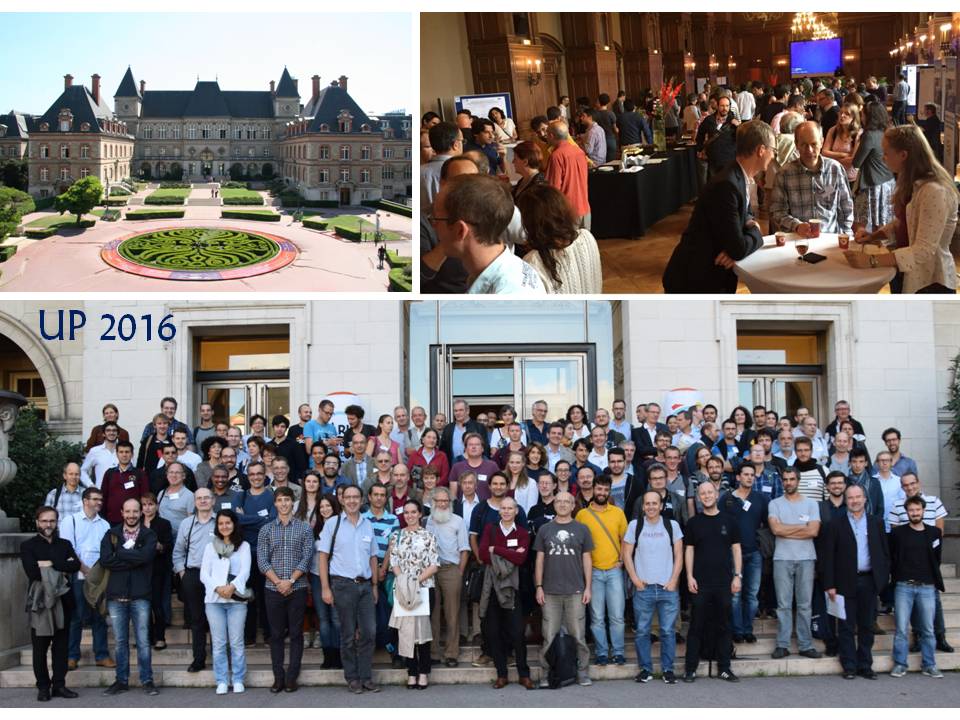 6ème Réunion plénière du GDR Ultrafast Phenomena
12-13 Décembre 2022
CIUP Paris
La sixième réunion plénière du GDR Ultrafast Phenomena rassemblera la communauté française
des théoriciens et expérimentateurs intéressés par les phénomènes ultrarapides (attoseconde, femtoseconde, picoseconde) intervenant dans tous les états de la matière (milieux dilués, solide, nanométrique, liquide, plasma):

Orateurs/Oratrices confirmés:

Catalin MIRON (LIDYL) « Présentation du PEPR LUMA »
Marie LABAT (SOLEIL) « Recent news about Laser-Plasma Accelerator based Free Electron Lasers. »
Amélie FERRE (LP3) « Kα X-ray source driven by a multi-terrawatt femtosecond laser at 100 Hz for spectroscopy and imaging application »
Adeline BONVALET (LOB) « Spectroscopie infrarouge pompe-sonde de la picoseconde à la microseconde dans une photoenzyme »
Hugo MARROUX (LIDYL) « Attosecond spectroscopy of molecular core levels »
Anna LEVY (INSP) « Ultrafast lattice dynamics of laser-heated copper using time-resolved photoelectron spectroscopy »
Aurélie JULIEN (INPHYNI) « Phase modulator based on thermo-optically addressed liquid crystal for multi-octave light source »
Victor DESPRE (ILM) « Ab-initio simulations of ultrafast electron-nuclear dynamics: Paving the way to attochemistry »
Rodolphe VUILLEUMIER (ENS, Dept Chimie) « Dynamiques aux interfaces de graphene et hBN chargées »
Yann GALLAIS (MPQ) « Disentangling lattice and electronic instabilities in the excitonic insulator candidate Ta 2 NiSe 5 by non-equilibrium spectroscopy »
Martin LUTTMAN (LIDYL) « Conservation of a half-integer angular momentum of light in nonlinear optics »
Fabien GATTI (ISMO) « Simulations of attosecond pump-probe experiments on CO2 »
Angella VELLA (GMP) « LaB6 nano-tip as an ultrafast electron source »
Giovanni MANFREDI (IPCMS) « Driving orbital magnetism in metallic nanoparticles through plasmonic effects »
Weipeng YAO (LULI) « Optimizing laser coupling, matter heating, and particle acceleration from solids, using multiplexed ultraintense lasers »
Isabelle MERRITT (CEISAM) « Photoisomerization of Cis-Azobenzene: Understanding the Quantum Yield Wavelength Dependency »
Edouard HERTZ (ICB) « Storing an ultrashort optical vortex in molecules »
Vincent LORIOT (ILM) « Attosecond signatures of spatially extended hole in a molecule »
Jonathan DUBOIS (Max Planck Institute for the Physics of Complex Systems « Recollisions in circularly polarized pulses : from tunnel-ionization to the return of the electron »
Brice ARNAUD (IMMM) « A first-principles approach to non-linear phononics in Bi 2 Te »
Amira GHARBI (IPCMS) « Ultra-fast Energy transfer dynamics in dye-doped organic nanoparticles »
Emmanuelle JAL (LCPMR) (LCPMR) « Unravelling the Transient Depth Magnetic Profile During Ultrafast Demagnetization of an Iron Thin Film »
Marc ALIAS-RODRIGEZ (ICR) « Revealing the ultrafast spin-crossover mechanism in Fe II (bpy)3 through quantum dynamics »
Eric CONSTANT (ILM) « Chromatic aberrations control in high order harmonic XUV beams by spatial shaping of the fundamental »
Présentations orales du Club des partenaires industriels:
(EKSPLA/OPTON) Oleksandr DEREVIANCHENKO « Developments in high intensity lasers »
(Amplitudes) Michele NATILE « High repetition rate few-cycle Mid-IR laser source »
(Sourcelab) François SYLLA « KAIO-Beamline, the modular high-repetition rate laser-plasma electron accelerator for broad range of applications »
1er Workshop « Dialogue théorie-expérience en sciences ultrarapides »
14 décembre 2022
CIUP PARIS
Cette année, le GdR UP organise conjointement à la réunion plénière un workshop satellite le 14 décembre 2022. Ce workshop est dédié spécifiquement à promouvoir le dialogue théorie-expérience. Les orat.eur.rice.s, membres invité.e.s de la communauté de physique et chimie théorique, y présenteront des progrès récents par exemple ouvrant de nouveaux champs d'application ou visant à susciter l'émergence de nouvelles expériences. Le workshop est ouvert à toute la communauté (expérience et théorie) et les échanges, questions et discussions y seront favorisés.
Programme des contributions invitées:
Richard Taïeb (LCPMR, Sorbonne Université, Paris) TBA
Bernard Pons (CELIA, Université de Bordeaux) « Structures et dynamiques de molécules chirales sondées par de brèves impulsions laser »
Martial Boggio-Pasqua (LCPQ, Université Paul Sabatier, Toulouse) « Dihydropyrene photoisomerization: Aspirations to go beyond the static mechanistic picture »
Etienne Mangaud (Université Gustave Eiffel, MLV) « Simulation by the hierachical equations of motion with tensor trains »
Valérie Vallet (PhLAM, Université de Lille) « Photodynamics of lanthanide and actinide complexes »
Aurélien Crut (ILM, Université Claude Bernard Lyon 1) « Investigation of the vibrational and cooling dynamics of metal nanoparticles by combined experimental and modeling approaches »
Philippe Scheid (Université de Lorraine) « Discussion on the origin of the helicity-dependent magnetization dynamics »
Guillaume Duchateau (CEA Bordeaux) « Laser energy deposition into dielectric materials »
Anne Tanguy (LaMCoS, INSA Lyon) « Nanostructuration de la Silice par laser femto-seconde »
Aurélien de la Lande (ICP, Université Paris-Saclay, Orsay) « First principles simulations of biological matter radiolysis, state-of-the-art and roadmap »
Valérie Brenner (CEA Saclay) « Non-radiative transitions in biomolecules: non-adiabatic dynamics simulations as a bridge between theory and experiment? »